Banks are still struggling to comply with the Consumer Financial Protection Bureau's 2015 TILA-RESPA Integrated Disclosure rule, or TRID, according to an American Bankers Association survey. The survey, conducted in February of this year, found that 25 percent of respondents have eliminated certain mortgage products because the rule does not provide enough clarity. Some of the offerings banks have eliminated include construction loans, adjustable rate mortgages, home equity loans or payment frequency options.
Featured Sponsors:
[huge_it_gallery id="2″]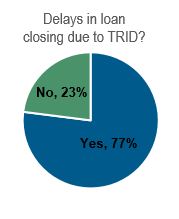 More than 75 percent of survey participants said loan closings are being delayed as a result of TRID. On average, those bankers reported a delay of 8 days with responses ranging from one to 20 days. More than 90 percent said front-boarding and loan processing times have increased.
"It's clear from this survey and our discussions with bankers that TRID compliance remains a significant concern," said Bob Davis, ABA executive vice president, mortgage markets, financial management and public policy. "Consumers are seeing the greatest impact due to increased loan costs, fewer choices and delayed closings – and that's not what this rule was intended to do."
Ninety-four percent of the 548 bankers who completed the survey believe the TRID "good faith" grace period should be extended.
Featured Sponsors:
[huge_it_gallery id="3″]
"As we anticipated, our bankers are struggling to comply in part because the systems being provided by vendors are incomplete or inaccurate," said Davis. "The causes of many of these systems problems are ambiguities in the TRID rule that require resolution."
The survey found that 78 percent of respondents are still waiting for system updates from their vendors and 83 percent are forced to use manual workarounds. About half of survey participants said their bank will have to or have already hired additional staff to comply with the new rule.
The bankers who participated in the survey represent a diverse group of banks in both geography and asset size.
Click here for the full survey report.
About The Author
[author_bio]
Tony Garritano is chairman and founder at PROGRESS in Lending Association. As a speaker Tony has worked hard to inform executives about how technology should be a tool used to further business objectives. For over 10 years he has worked as a journalist, researcher and speaker in the mortgage technology space. Starting this association was the next step for someone like Tony, who has dedicated his career to providing mortgage executives with the information needed to make informed technology decisions. He can be reached via e-mail at tony@progressinlending.com.